History
Robert Kukuruza was born at home in Brockton, Massachusetts, May 31,1918, to newly arrived Ukrainian immigrants, Nick and Udokia Kukuruza. Young Robert came into this world without professional assistance, and whatever essentials he may have needed was provided by his family and neighbors.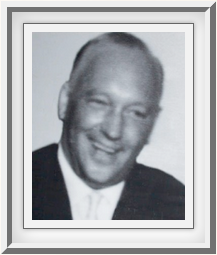 During this time, the nation was going through a great depression and everyone had to work to make life easier for the family. Dropping out of school at an early age, Robert began full time work at an ice delivery company to supplement the family income. When he was old enough to drive, he became a line driver for the Sunshine Biscuit company.
In 1940, Bob enlisted in the Massachusetts 211th Artillery and Anti Aircraft Unit of the U.S. Army Reserve , with his friends Al Franzoza, Bill Pendergrast, Bill Tedesco and Joe Smith.
When World War II came, Uncle Sam sent the 211th "Bostonians" to guard the Mare Island Naval Shipyard in Vallejo, California.
Arriving in Vallejo with no quarters, the 211th pitched tents, lived in converted chicken houses, abandoned garages and lean-to's, until they could build their own Quonset huts near their gun emplacements. The people of Vallejo opened up their homes to their new servicemen. The men were regularly invited to join neighbor families for large outdoor meals and BBQ's.
Bob was assigned to the motor pool, which included the operation of a five-ton and more capacity tow truck. Since old Highway 40, now 80, ran through Vallejo to San Francisco, it was a main artery for troop and supply movement along with regular commerce. Recognizing his skills, Bob's superiors promoted him in charge of the motor pool within months of his appointment.
The only big rig in the area, was the 211th's, Bob and his crew manned it. If there was an accident or breakdown in the city or on the freeway, the 211th responded. This was part of their duty to keep traffic moving in the area.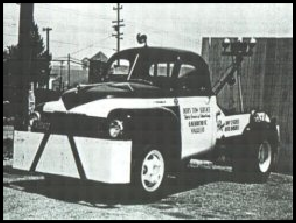 Bob's Tow Service Begins 1945. When the war ended Bob and many 211th members stayed in Vallejo to begin their families and careers. Bob met and married Mary Houston and began his family and towing business. He bought his first truck through an Army surplus sales program, and assembled his own bed, winch, and boom by getting his materials from local salvage yards. His first location was along old highway 40, at the Lake Side Auto Court, near Lake Chabot. Without any building or yard, he stored vehicles between housing units and repaired cars under an old shade tree.
Through hard work, diligence, and honesty, Bob used his service training experience, to found his towing business. As business grew he rented a yard and building in Vallejo and began hiring some of his army buddies as mechanics and drivers. In 1948, he contracted with his first motor club, the National Auto Club. Bob continued to build all his own equipment and make modifications as his business and the city grew.
For his early security with a growing site, Bob relied on lights and watchdogs, with sporadic security patrols. Whenever the local pound had a good dog that was going to be put to sleep, they called Bob to see if he could supply a loving home for it. Bob would then don a thick shirt with an extra thick jacket, and a pair of welding gloves and go pick up the dog in his car: One particular dog was a police canine school reject, with a very bad attitude. Bob went through his regular routine of padded protection in picking up and getting acquainted with the animal. Bob named this dog "Bite Leg", and they became friends forever after a rough start.
The Growing Years
By the early 1950's, Bob saw a need for intercity, multi-unit transportation for disabled vehicles. He now began designing and assembling a fleet of trucks able to load and unload inoperable vehicles by the truck's own power Bob extended his personal ride along training to insure a professional towman, able to operate these trucks and feel confident in his job. By 1970, Bob had acquired a 25-acre site for his corporate operation, which had become one of the largest in the United States. He never retired from working, directing, or advising in the towing business. He dedicated 48 years to the profession of towing. But really, it was a dedication to people who needed a service, and to those who wanted to work.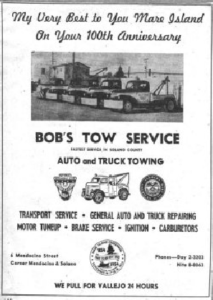 Robert Kukuruza was a model of how a person can be successful using hard work and perseverance while maintaining an atmosphere of care. The industry he chose, was the auto and truck towing, motor pooling, and road services.
At first, he constructed and designed all his own tow trucks and worked alone, 24 hours a day, seven days a week. During this time, he always put his family values and safe care for others first. He was loyal and dedicated to the towing profession, as exhibited by the longevity of the family business, which he founded in 1945 and operated until his passing in 1989.
Bob's Towing Service is still operating today at:
1112 Beach Street
Vallejo, California.